Book:
Uniform Civil Code
Fictions and Facts
By Prof. Tahir Mahmood
(208pp /PB)
Price: Rs 200* (Rs175+Postage) / US $8

THE BOOK

In the context of the Constitutional provision concerning a uniform civil code this book demolishes the widely prevailing fictions and myths and resurrects forgotten facts and the underlying realities.

It delves deeply into all aspects of the ongoing controversy on the subject, unfolds certain truths not fully known or recognized, attempts to remove misgivings and invites all concerned to assess afresh how best the provision of Article 44 can be translated into action to the optimum benefit of all sections of the society.


THE AUTHOR

Tahir Mahmood, Member, Law Commission of India, is a renowned jurist specializing in Islamic Law, Hindu Law, Religion and Law and Law Relating to Minorities. He has been Dean, Faculty of Law, University of Delhi, Chairman, National Commission for Minorities, Member, National Human Rights Commission and Jurist-Member, Ranganath Misra Commission.

A specialist in 'religion and the law', comparative jurisprudence and Indian and foreign family laws, the author has spent thirty-two long years in legal studies, teaching and research. He has written a large number of books.
Contents:

Introduction
I. Judicial Anxiety for A Uniform Civil Code — Reflections on Three Recent Cases 1985-1995
1. Sarla Mudgal Judgment 1995 Judicious Ruling, Invidious Obiier 9
2. Shah Bano Judgment 1985 Sensible Decision, Misconceived Premise 19
3. Jorden Diengdeh Judgment 1985: Side-Stepping the Issue by Talking Round Uniform Civil Code 27
II. Reflections on Sarla Mudgal Case 1995 — °biter Dicta and Ratio Decidendi
1. Rationale and. Objects of Uniform Civil Code Directive Relevance of Two-Nation Theory, Partition and Religious Identity
35
2. Was Personal Law System A Gift from Warren Hastings ? Hindu-Muslim Personal Laws During Muslim Rule in India 42
3. Uniformity, Secularity and Gender Equality Does the Hindu Code Conform to These Ideals ? 46
4. Fraudulent Conversion to Islam for the Sake of Bigamy Un-Islamic, Un-Constitutional and Reprehensible 57
III. Reflections on Shah Bano Case 1985 — Prefatory Stricture and Its Aftermath
1. The Alleged Degradation of Women in Islam : Conflict of Theory and Practice and. Its Consequences 71
2. Muslim Women (Protection of Rights on Divorce) Act 1986 An Overview in Retrospect 91

www.milligazette.com/Archives/2004/16-29Feb04.../1602200443.htm
Feb 29, 2004 -

Talking sense on Uniform Civil Code By Tahir Mahmood ... My 1995 book Uniform Civil Code: Fictions and Facts, mainly a critique of Justice ...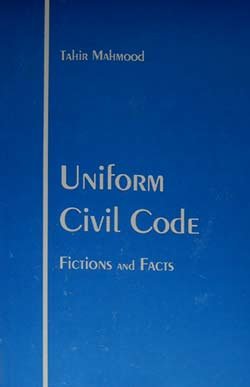 How to order
1. Buy online securely using:
- Credit Cards
- Debit Cards
- Net Banking - (All Major Indian Banks)
- Itz Cash cards
- PayMate - Mobile payments

India: Rs 200

Rest of the World: US $8 Approx. (Registered Airmail charges included)
2. or buy offline by
- Sending us a Cheque, Demand Draft or Money Order.
- by dropping a cheque at any HDFC Bank ATM across India (email us for our account details) books@pharosmedia.com
Availability: Usually ships the next business day.
Note: Airmail takes 15 to 21 days
We Accept