Published October 2012
Book:
Conspiracy to Kill Rajiv Gandhi: From the CBI files

By K Ragothaman
Former Chief Investigator of the CBI
Did Intelligence Bureau director MK Narayanan tamper with evidence of Rajivís assassination? Buy a copy of 'Conspiracy to Kill Rajiv Gandhi: From the CBI Files'

Availability: Usually ships the next business day.
India: Rs 595

Rest of the World: US$ 18 Approx
About the Book:
The gruesome assassination of former Prime Minister of India Rajiv Gandhi on 21st May, 1991 was meticulously planned and flawlessly executed by hardcore cadres of LTTE. It was an unique and first of its kind murder plan wherein a human bomb, that too a lady, was used, killing not only Rajiv Gandhi, nine police officers and six other persons, but also causing grievous injury to more than fifty persons assembled at the election meeting to hear the views of Rajiv Gandhi.

Due to the assassination of Rajiv Gandhi, the nation suffered a great tragedy and the Lok Sabha Elections (1991) had to be postponed. The perpetrators of heinous crime, by assassinating Rajiv, directly interfered in our sovereign rights and caused disruptive activities in our democratic system. The method of assassination as well as the terrorist outfits involved therein remained a mystery for quite sometime. Theories after theories, news after news, were planted and disinformation campaigns floated by so-called Goebbels without any basis.

The author, who was the chief investigating officer of the case in CBI, has deeply gone into the investigation in spite of having no clue to start with. Piece by piece, step by step evidences were collected and on the pugmarks, the culprits were apprehended and the main faces of the conspirators were unmasked.

The author, in this book, has given detailed account of the investigation and also exposed the persons behind the disinformation campaign and revealed as to how the CBI investigation was derailed and many of the bureaucrats and political personalities were allowed to go scot free.

About the author:
K Ragothaman, a Post Graduate in Economics from Annamalai University, belongs to landed gentry and has been associated as an Editor with a Weekly Magazine "Annamalai News".

He joined CBI in December 1968 and after a year training in the National Police Academy at Mount Abu, Rajasthan, came to mainstream of investigation. Associated with the investigation of important cases of CBI and independently handled mostly Anti-corruption and Economic offences, involving senior public servants of both Central and States, noted industrialists and politicians.

A blind case of Special Crime, called Advocate Rasheed Murder Case investigated by him where the involvement of a former Home Minister, a Sr Police Officer and others was brought to light during the course of investigation conducted in 1988-1990. Probably this investigation was the basis for the senior officers of CBI to nominate him as the Chief Investigating Officer in the Rajiv Gandhi assassination case! Out of 36 years of service in CBI, more than 10 years had been put in by him only in one case that of the killing of Rajiv Gandhi.

After retirement in March 2005, he produced a Documentary Film in the DVD format titled as The Human Bomb relating to this case and was released by the Honourable Judge M Karpagavinayagam of Madras High Court in July 2005. He has also authored a book in Tamil in the year 2009 titled as "Rajiv Kolai Vazhakku" after the death of the remaining two accused, Prabhakaran and Pottu Amman in a war with the Sri Lankan Forces in May 2009.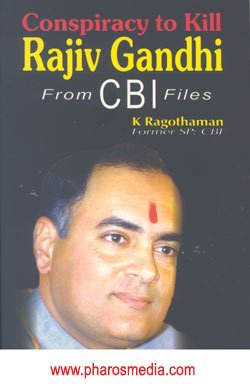 How to order
1. Buy online securely using:
- Credit Cards
- Debit Cards
- Net Banking - (All Major Indian Banks)
- Itz Cash cards
- PayMate - Mobile payments


2. or buy offline by
- Sending us a Cheque, Demand Draft or Money Order.
- by dropping a cheque at any HDFC Bank ATM across India (email us for our account details) books@pharosmedia.com
Availability: Usually ships the next business day.
Note: Airmail takes 15 to 21 days
We Accept